TV-10 was started during the 1973-1974 school year, with the first newscast going live in March of 1974.
Peoria radio newscaster Jeff Hawkinson was tapped as the first News Director, and Martin Grindeland (now at Minnesota State University Moorhead) was the Production Director. The pair helped launch TV-10, but then moved on. The next Production Director was Jeff Szmulewicz (now at Columbia University in New York) and the News Director was Wayne Weber, who guided TV-10 for the next 9 years.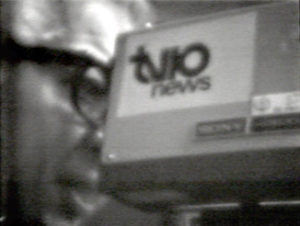 At that time, the newscasts were simple, with images on film, in black and white. The switch to color came in 1978. TV-10's newsroom was in the Old Union building, but the students who anchored and ran equipment for the daily newscasts had to run to the studio – in Metcalf School. That meant physically running across campus, often resulting in students being sweaty and breathless when they arrived at the studio.
TV-10 moved to new facilities in the Fell Hall basement in 1992. Finally, the newsroom and studio were in the same building. Plus, the studio was open more hours to accommodate more students and more productions.
Other news directors: Jay Groves (1985-1995), Rob Paullin (1995-1997), Karin Schwanbeck (1997-2003) and Laura Trendle Polus (2003-present). Production directors have also included: John Fisk (1982-2002), Rick Ricioppo (2002-2007) and Bob Carroll (2007-present). Primary engineering support has been provided by: Danny Sepesy, Pat Smith, Rick Kempf, Rob Whalen and Jim Sallen.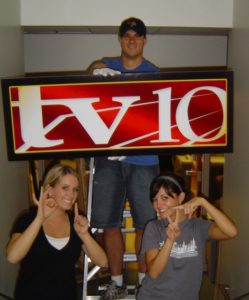 Carroll was behind TV-10's 2008 renovation, with a new logo, color scheme, and news set. In October 2008, ISU President Al Bowman and many others attended a ribbon-cutting for the "new" studio. Student Dan Coad composed theme music, which was recorded by ISU's Big Red Marching Machine, and student Jacob Long coined the slogan: Your Campus, Your Community, Your Life.
In August 2009, TV-10 made went "tapeless" with the acquisition of digital videocameras, digital non-linear editing stations and a digital playout server. Video and interviews are captured on small memory cards, ingested into the system, and edited in time for air. Master Control creates a playlist for each show. In Fall 2010, the purchase of three smaller digital videocameras allowed for a new emphasis on "one-man banding" with all broadcast journalism students being taught to shoot. Similarly, mass media students were doing more reporting, writing and performance. In 2014, new scripting software added a social media management function.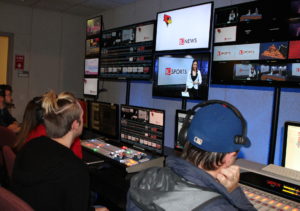 The latest changes happened in Summer 2016, when TV-10 transitioned to High Definition. The control room was renovated, with a new TriCaster switcher at its center, and the studio was repainted so that all sets for all shows are now virtual, on the green screen.
TV-10 continues to focus on news coverage and production, but also highlights sports and entertainment/features. Advanced students can work on the SportsZone, Ten on 10, or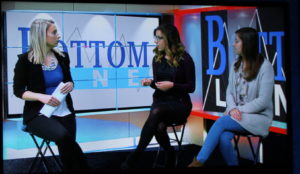 The Bottom Line, all of which incorporate the Social Media Analytics Command Center, the SMACC.  All three shows have won numerous awards from the Illinois Broadcasters Association and the Illinois News Broadcasters Association.
Jeff Hawkinson called the TV-10 program "a new laboratory being established as a training experience for aspiring journalists as well as a professional-level local news operation." He wanted the students to be trained "to react like a commercial station in judging news values." Jeff's goals back in 1974 still hold true today.